Query spatial
data from

your browser

.

Load spatial datasets, write expressive queries, and visualize the results. Our GIS sandbox brings geospatial to the cloud.
Filter, sort, and search through results
The table view for features makes it easy to find the best apartment building, the tallest mountain, or newest road segment.
Sort numerics like area, distance, and more

Skip items irrelevant to the analysis

Process millions of points

Search nearest by address or point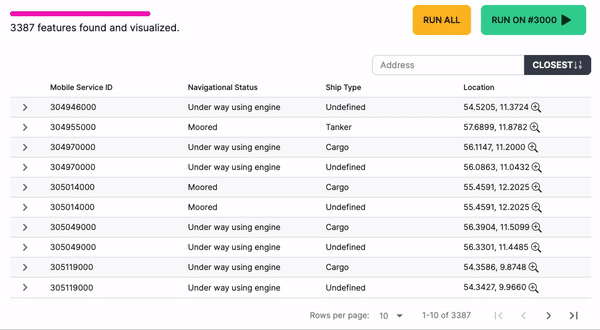 Built on open source, turbocharged in the cloud.
Analyze without
headaches

.

Leverage 285 spatial operations in the cloud to analyze without the GIS overhead.
Directly query OpenStreetMap
Analyze tagged POIs without downloading the 66GB+ planet PBF
Automatic projections
Focus on the analysis, not on equidistant EPSG codes
Spatial joins that make sense
Write spatial joins in Python, not SQL
No PostGIS needed
Upload and host datasets in 10+ file formats
Try the sandbox
for free, forever

.

Perfect for exploration and analysis, no credit card needed.

Demo without signing up

Backed by